JOURNEY THROUGH THE ELEMENTS SPRING YOGA RETREAT
WITH
SAMARA
6 MAY – 11 MAY
2024
---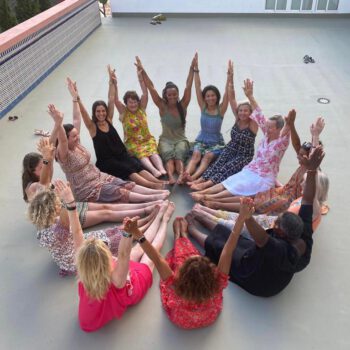 Spring is a time for new beginnings and transformations; a time to let go of the old energies that are no longer serving you to rebirth the version of you want to bring forward for this time.
It is the perfect time to set new intentions for the energy you wish to create.
I invite you on a journey…
A journey through the elements fire, air, earth, water and ether.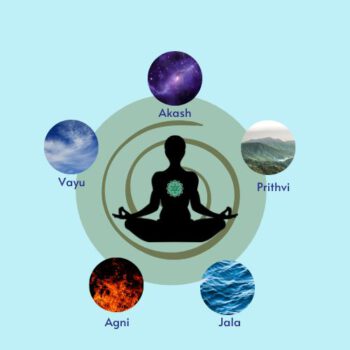 This journey will help you to rediscover your true self as you burn away limiting self-beliefs, cleanse body, mind & spirit, breathe with intention, ground yourself with the luscious earth and create space for your rebirth and the new energies you are welcoming in.
I cannot dream of a better place for you to deepen your yoga practise and journey through the elements than the beautiful setting of Mandala de Masca, Tenerife for a blissful 6 night retreat where you will have time to connect more deeply with yourself, nature and others and come away feeling energetically lighter as well as rebalanced and refreshed.
CONNECT WITH NATURE
Tenerife is known as the island of endless summer, due to its unbeatable climate all year around. We will be staying in the breathtakingly beautiful and unspoilt region of Teno National Park, at the northwest tip of the island.
The idyllic and magical retreat centre, Mandala de Masca is set in the small and picturesque village of Masca, surrounded by lush greenery and wide mountain views. The fresh mountain air, clean water directly from the spring, birds singing in the valley and the light of the stars will activate your senses and bring you calm, clarity and inner peace.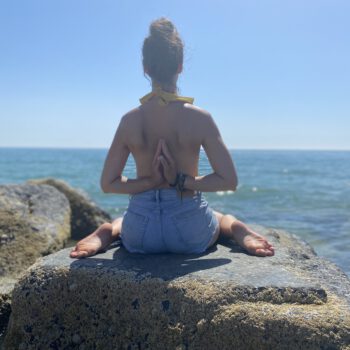 PRACTICE & LEARN
This retreat is a wonderful opportunity to deepen your yoga practice and go beyond asana (physical yoga postures) to explore more deeply with breathwork practises (pranayama) and meditation (dhyana) to support you on your growth to your truest self.
Guided by Samara, in safe hands with a balance of gentle and restorative to dynamic vinyasa flow yoga. This will be dynamic enough so that you feel like you are building strength and heat in the body, but gentle enough so that you can keep that mind, breath & body connection throughout.
In addition, there will be some wonderful workshops to truly nourish you and to deepen your yoga practise further.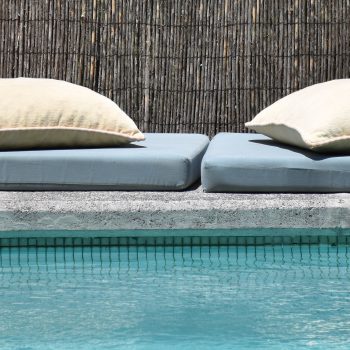 The yoga spaces at Mandala de Masca are truly amazing. The Studio (Shala) and the spacious Outdoor Deck are nestled into the mountain side with incredible views, making a dramatic setting for your daily yoga. High quality mats and props are provided to support and enhance your experience.
TASTE
Relax and be cooked for! The food is one of the highlights of the Retreat. While you feed your soul, your body will be fed with the tastiest meals. The chefs lovingly create the fresh plant-based meals three times a day, nutritious bites in between and unlimited delicious natural drinks. Every meal is healthy, filling and sure to tantalise your tastebuds.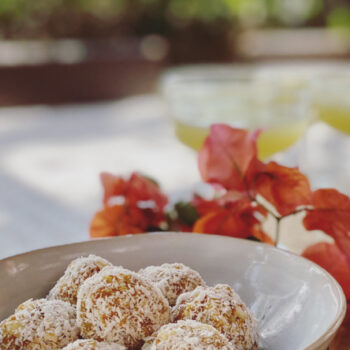 SURRENDER
Imagine taking time, entirely for yourself, where you will be looked after and nourished. There is plenty of free time to rest, read, snooze in a hammock, sunbathe, swim, go on a walk and explore. You can do as little or as much as you like! Sit in nature, curl up indoors, journal, have a massage, you might even decide to have a digital detox…it's all up to you!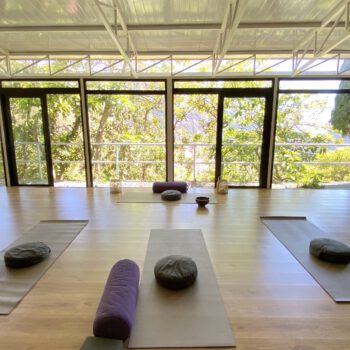 INCLUDED IN THE RETREAT IS
6 Days of time for yourself, in beautiful surroundings, with the possibility to retreat from everyday responsibilities
Twice daily yoga sessions with Samara. This will include both dynamic and restorative practices, suitable for all levels. Yoga is for all!
Daily meditation, overlooking the stunning vistas of Masca.
3 exquisitely prepared, scrumptious plant-based meals each day, created by talented in-house chefs, including ingredients hand-picked from the on-site organic gardens.
Fruits and nutritious snacks plus natural delicious refreshments, available throughout the day.
Airport transfers for arrival and departure from Tenerife's South airport.
Excursion – Sunrise meditation to foot of Mount Teide followed by picnic breakfast and then a day at the beach!
A deeply immersive Sound Bath session, led by the amazing Sound practitioners who are based on the Island.
Free time to relax, have a swim in the pool or book a massage.
Hiking routes to explore the local area with all its natural beauty, including the cafes and bars in the quaint village of Masca.
Memories of a beautiful week.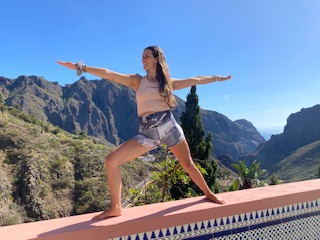 NOT INCLUDED IN THE RETREAT PRICE:
Flights
Travel insurance
Massage or Treatments
INVESTMENT PER PERSON:
(All-inclusive retreat, including airport transfers)
Sharing 3 person €905 (approx. £833)
Shared 2-person Twin or Double €969 (approx. £888)
Individual Private Suite €1,345 (approx. £1,233)
Cheapest way is to share, either with someone you know (a friend/ partner) or another guest. Lots of people attend retreats on their own, so if you are coming solo, we will happily find you a roommate to share with!
Although flights are not included in the price, we can suggest flights if traveling from London, or general times to arrive and depart from Tenerife South Airport.
About Samara
Originally from Northern Ireland, Samara moved to London to pursue a career in teaching. Her yoga journey began over ten years ago when she was pregnant with her first-born son. Yoga was a practice for Samara to channel her spirituality, it soon became a consistent part of her life. Deciding to combine her two passions, teaching and yoga, she qualified as a yoga teacher in 2019. Now mum of three, Samara teaches a range of yoga styles, workshops, private tuition, retreats and children's yoga. Her kind, compassionate nature brings a nurturing feel to her classes, along with a personal and supportive approach to her teaching.
Yoga to me is peace. It is stepping out of a chaotic world onto my mat, connecting mind, body and soul. It is acceptance, love, compassion, patience, a never-ending journey of self-discovery and learning. Yoga has so much to offer, no matter age, size, ability, it can relive both physical and mental pains. I love to help others unlock the truly magical effects of yoga, so join me on this six-day retreat, no matter if you're a beginner or a certified yogi, I look forward to helping you on your personal journey. This is the perfect time to reconnect to yourself, find peace, and immerse yourself in the beautiful surroundings of Mandala de Masca.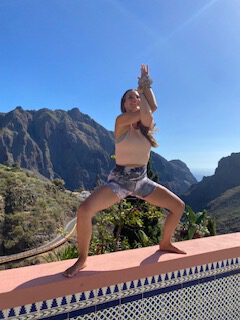 ---
Please get in touch for more information. I hope you can join us on this retreat of a lifetime!
Email: Silverlinings36@yahoo.com

BOOK
THIS
RETREAT
BOOK
THIS
RETREAT