Yoga Ripples
Yoga Retreat
with
Deirdre O'Toole
21 November – 28 November 2020
---
"One teeny tiny change can create a lifetime of beautiful ripples"
Description of the retreat.
Awaken your vitality and zest for life with this authentic and deeply nourishing retreat.
Indulge yourself; Take the time replenish yourself. Learn to smile from the inside out.
Press reset; Reconnect with your authentic self & let go of stress and anxiety. Regain your sense of self confidence and inner joy.
The ideal location to unplug and enliven your senses in the beauty of nature.
A chance to get away and step aside from the hustle and bustle of life.
It is a relaxing retreat holiday in a gorgeous mountain yoga retreat centre.
Plenty of free time; Laze by the pool, enjoy in a massage, lounge in the hammocks, listen to the sounds of nature. Read a book or write in your journal.
A truly enriching retreat experience.
Yoga Practice
The yoga I teach is classical yoga from the Hatha, Iyengar, Ashtanga traditions.
My daily self-practice inspires my teaching. I instruct intuitively and guide the class to meet their needs.
I encourage self-awareness, tuning in to practice at the pace and intensity which is right for you, your body and on the day.
For me, there is no such thing as "the perfect pose", its not about looking beautiful on a yoga mat, the pose is perfect for you in the moment and on the day.
I demonstrate different stages of each pose to meet the needs of a mixed level class. The classes are suitable for beginner and mixed levels of practice.
Morning Yoga Class
A wake-up yoga class, slow build up to a flowing dynamic class.
Evening Yoga Class
Gentle Yoga, slow movement, breath awareness & pranayama. A more Yin focus- holding asana for longer while supported to allow for opening and release in the body.
Evening Meditation, Yoga Nidra
A time to let go completely- float away to sheer bliss.
Yoga & Mindfulness Workshop.
Topics include Chakra systems, Yoga Philosophy, Subtle body.
Mindful presence – Mindfulness of breath – Mindful walking – Mindful eating & Mindful listening.
Periods of Silence
Silence Periods- From 10.00 to breakfast each day. This is to allow you to fully be with you, to reconnect deeply, to see clearly & especially for you to incorporate and absorb the benefits of the retreat. I believe it is very beneficial in a retreat setting and an ideal opportunity to practice.
The Food
Includes 3 deliciously nourishing plant-based meals and snacks, water, teas.
Daily Schedule
07.30 Tea & light bite
07.45 Morning Yoga class
09.15 Breakfast & Break
11.00 Yoga philosophy / Mindfulness workshop
12.00 Free time
13.00  Lunch and Break
15.00 Noon Yoga Class
18.30 Dinner and break
20.00 Loving Kindness Meditation & Yoga Nidra
22.00 Rest & Silence
(Changes Reserved)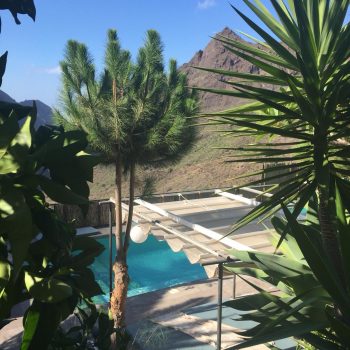 Accommodation
Modern & very comfortable and with a wonderful peaceful energy to support your retreat experience
Excursion: Sunrise mountain meditation followed by trip to the beach. More information on arrival- they are all wonderful.
Price per person
The prices are per person. All rooms have single beds and their own private toilet/shower facilities
Price per person in a shared four/triple room € 849,-
Price per person in a shared double room € 949,-
Price per person in a private single room € 1.365,-
*All proceeds of this retreat directly supports the work of the non-profit Foundation Yogini rosa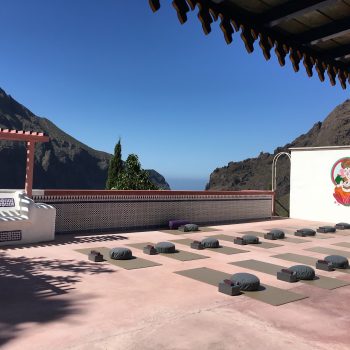 Included
3 hours of Yoga daily and 1 hour of meditation/yoga nidra daily
6 nights accommodation/full board – all meals/ snacks, drinks included.
Yoga mats & props
Afternoon workshops, Yoga philosophy, Chakra systems & Mindfulness practices.
Full use of the facilities.
Extras
Return flights.
Airport transfer based on shared taxi approx. € 40,–pps
Massage/ treatments
Excursions approx. € 35,–pps
Personal Insurance
Cancellation insurance- recommended.
Me- Deirdre O'Toole – Your Guidance.
Yoga and meditation are my passion in life. I am a certified Hatha, Vinyasa, Iyengar Yoga teacher and a mindfulness meditation teacher since 2011. I am practicing Yoga and meditation with over 15years. I am committed to lifelong learning and evolution of awareness body, mind and soul. I regularly attend training, workshops and retreats worldwide to further enhance my teaching skills. It is truly a privilege and I take great joy in sharing what I love. I instruct from a place of love & gentle curiosity for what is arising during the yoga practice, joyful acceptance for the unfolding wisdom & love and kindness for the wonderment of life and human connection. We journey together- I wish you a wonderful retreat.
I am a registered general nurse and I've studied applied science, so I understand the human body and work safely and therapeutically. I love to travel and experience different cultures. India and Africa have a piece of my heart. "They have their own pulse" as I often say. I come from a beautiful little island off the west coast of Ireland, Inishturk Island with 52 people living there. It's fabulous. Galway city- the city of tribe and culture in the west of Ireland is my base. I am a fun, outgoing adventurous person. I love to dance. I make raw organic chocolate to share, just a little insight into me J. I look forward to sharing my wonderful retreat with you, join me…
Check out www.facebook.com/yogaripples for reviews and more information about me and my style of teaching. Email; deirdreotoole108@gmail.com Whatsapp;+353872547611
Do you want to join?
---
How to book this retreat
By a click on the BOOK button you can register for this retreat. The team of Mandala de Masca will forward your form to Deirdre.

BOOK
THIS
RETREAT