Journey to your Soul
Your Yoga Summer Retreat in Tenerife
with Julia Lammel
30 August – 6 September 2019
---
Julia Lammel is returning to Tenerife this year to offer her special  'Journey to your Soul'  Yoga Summer Retreat 2019.
Your Yoga with Julia
We often lose contact with ourselves. In many cases, everyday life demands (over) us, is not always matching  a suitable, regenerative balance in which we can gather and find ourselves.
Take this yoga week off as a break and give you the opportunity to come closer to yourself again.
The daily yoga program consists of meditation, pranayama, chanting and asana practice. So you can release tension and regenerate yourself on all levels and through all layers of your system.
Body, mind and soul are allowed to detoxify through the regular and warming yoga practice, so that the toxic is broken down and creates space for new things in you. You feel refreshed, strengthened and centered.
You will feel comfortable with "Journey to your Soul" if you have some good Vinyasa Yoga beginner skills and are willing to deepen your yoga practice at all levels. The language of instruction is in English and German.
Your home for the week is "Mandala de Masca"
Mandala de Masca is located in the mountains of Tenerife amidst peaceful nature, about 45 minutes away from the airport.
A lovingly designed house by Monique and Marcello welcomes us exclusively for our yoga week. The property is big enough to always find a place for a quiet break. As well as the garden, the yoga areas and the pool, the common room with fireplace is at your disposal.
We eat, depending on the temperature, inside or outside and look in the evening in the open-air cinema, if desired, together beautiful films. Pictures say more than a thousand words: look hier.
What can you expect during your retreat
The sunny island of Tenerife perfectly matches our retreat with its warming temperatures.
The quiet location, the warmly designed house and last but not least the high-quality, organic food, which for the most part comes from the own garden and from the farmers of the islands, complete everything.
You can enjoy the day alone or in a group, regenerate, explore the surroundings, hike and feel the island feeling and admire the view.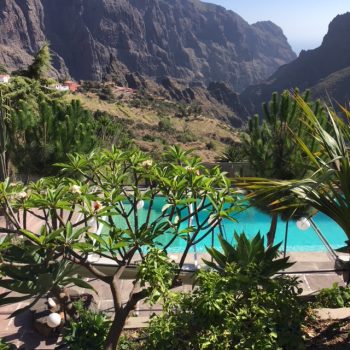 The pool invites you to relax with like-minded people, you can read, look at the valley view, or just do nothing and enjoy the luxury of free time to the fullest. You can book organized hikes and excursions as well as massages and workshops as you wish (not included in the tour price).
Daily Schedule (example)
08:00 – 10:15  Morning -Meditation, Pranayama, Chanting & your wake up Vinyasa-Yoga
10:30 –  Wonderful Delicious Brunch
11:30 – 17:00 Pool time, Massage, you are free to explore
17:00 – 18:30 Slow-Flow, Yin-Yoga & Yoga-Nidra
18:45 –  Out door Vegan Dinner
Scope
The rate per person for "Journey to your Soul" includes two yoga classes daily (approximately 3.5 hours).
The arrival day is yoga-free; The retreat starts with a warmly-welcome dinner.
To give all participants space for individual or community trips on the island, Tuesday is yoga-free.
On the departure day we say goodbye to each other with a morning good bye class (about 1 hour, depending on your flight dates).
In addition to the yoga, of course, the accommodation (depending on the accommodation) and the full board with delicious, vegan / vegetarian and mostly organic meals (brunch and dinner) are included.
Likewise, the drinks are included with meals and all day fresh spring water from the mountains and small treats.
Your room is stocked with all the bed, bath, beach and pool linnen you need. Of course the use of common areas and the swimming pool is also included.
If you want to travel alone, you can book either a single or a shared room if you wish. Please contact Julia (JL@your-yoga-now.eu) for any questions.
Price for the Retreat week
Single room:                  Euro 1.349,-
Double room:                Euro    999,- (max. 2 persons per room)
Shared room:                Euro    849,-   (max. 4 persons per room)
*price per person
How to get to Masca?
A transfer from / to the airport of Tenerife South can be arranged (about 40, – € / person, the tariff is not included in the tour price). If you are interested in a transfer, please indicate this request when booking including your arrival and departure dates.
Flights
You organize your flight yourself. It is not included in the price. We support you very much and like to bring together traveling yogis and yoginis, who come from the same cities. If you like to travel from Düsseldorf to Julia, feel free to contact her (JL@your-yoga-now.eu).
More info…
Depending on what you want to do with your free time, renting a car can make sense (especially if you want to go to the beaches).
The canyon of Masca is passable – but you should not worry about narrow tracks and steep slopes. ;O)
Yoga material including mats (Manduka) is available in Mandala de Masca. An own mat can be brought along, but it is not necessary.
There is a free wifi in the retreat center. Because of its location in the mountains, it's not always perfect (maybe a way for some "media detox").
It is recommended to take out travel cancellation insurance. 
Fo further information and questions feel free to contact Julia (JL@your-yoga-now.eu or phone +49 (0) 211 – 5 66 77 632) or the team of Mandala de Masca.
---
Julia Lammel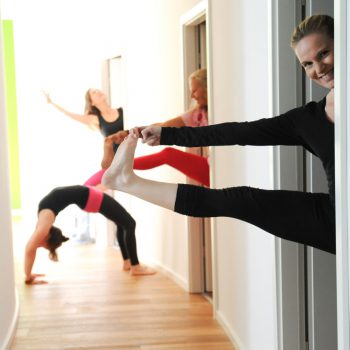 Julia Lammel is a qualified Yoga teacher and Yoga studio owner from Düsseldorf – Your Yoga Now –
During Julia's yoga practice you will experience high-quality, individual and undogmatic yoga with a lot of freshness, heart and lightness. Her offer is open to all who are looking for a way to stay physically, mentally and emotionally fit and in balance. Every age group and life situation is welcome in our inner city oasis to recharge your batteries, energy and vitality. Whether in restorative and deep regenerating classes, gentle yet strength-building courses, in sweaty, demanding classes or in the context of personal training, further education or training – we look forward to seeing you and on your way to a new body to accompany – and life feeling.

BOOK
THIS
RETREAT