Yoga & Movement Retreat
with
Sigga & Halla
19 Februari – 26 Februari 2024
---
Create a deeper connection between your mind & body through yoga and movement
Halla and Sigga invite you to a yoga and movement retreat in the beautiful mountain valley of Masca, Tenerife, where we will be surrounded by the soft, powerful energy of nature.
It's a women only retreat.
The classes work for all levels in English. New practitioners as well as seasoned ones.
Halla and Sigga will guide you on your journey.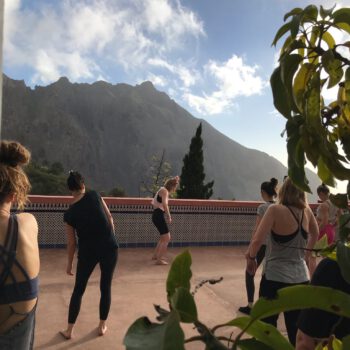 The week  will be a great combination of yin and yang energy.
Of soft and dynamic yoga flow, dance, movement classes, moving meditations, yoga nidra and ceremonies and to top it all we will be nourished with yummy healthy vegan food.
But worry not, we are not here to have any restrictions or rules.
If you are  longing for something less healthy there is a small town just five min walk away.
.
HOW THE WEEK WILL BE
Sigga and Halla will dive deep into every part of the body, mind and spirit  to create a deep mind-body connection and make us feel energized and awakened.
Each day a new theme, a new part of the body will be explored and woken up through soft movement classes, yoga flow and other external elements for the sences, like cacao ceremonies, sound healing etc.
We will go bottom up. Starting by deepening the connection between feets and mind to ground ourselves.
Hips and shoulders are our main focus point, but we will dive into each and every part of the body. Moving up the body and  into the more spiritual part of the body, the aura.
The days will be constructed of three classes  – yoga, dance, movement, guided relaxation, ceremonies etc.
In between you will have plenty of "me" time or "we" time by the pool, in the hammock reading or relaxing, having coffee in town or taking a hike in the beautiful mountains around us.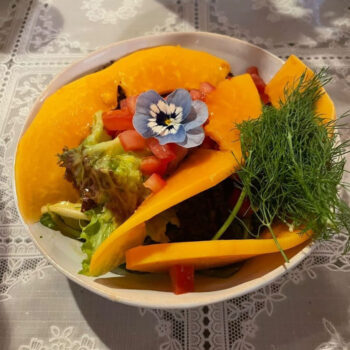 CLASSES
Morning movement: We wake up and get blood moving through soft movement designed to open up the body. Special focus on hips and shoulders where we tend to keep our tension.
Dance: The music and intention of the day will lead the dance classes. Focus is on rhythm and the way in which we move.
The classes are guided but with space for freedom.
Shaking: One of the more healing practices for the nervous system is to shake the body.
Releases blockages, helps with trauma and anxiety. Sometimes you just need to shake it off.
In these classes you will be given tools and methods to just shake it.
Yoga flow: Slow flowy but at the same time dynamic classes.
Meditation & Yoga Nidra: Guided relaxing meditation, where you surround yourself completely to deep relaxation. Yoga Nidra is a very powerful way to get into a deep relaxing meditative state. In that state your body can start its own healing.
Fusion: a combination of dance, shaking and  yoga flow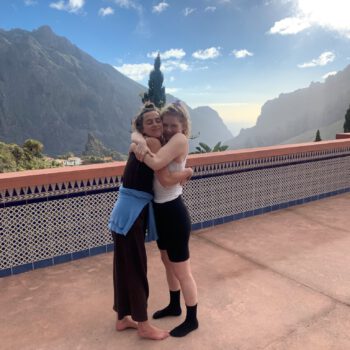 WHO
Sigga and Halla have been fusing together yoga, movement and meditation for a few years to create fun, dynamic but also relaxing classes.
They are great friends, Yin & Yang girls who balance each other out.
Sigga has been moving since birth. Her main focus is sensual and mindful movement. She believes in letting the music lead the flow.
She mixes together African, South American, hiphop, r&b, voguing, ballet and contemporary practices.
Like Gloria Esteban she believes that the rhythm is gonna get you.
Halla is a yoga teacher and is trained in – vinyasa yoga, kundalini yoga and level 1 and 2 of yoga nidra.
She is also a Reiki healer. For the past years she has mainly been focusing on creating soft but dynamic vinyasa flow classes combined with yoga nidra.
Halla devotes her time between teaching, exploring yoga through her own practice, working in water as an aquatic body worker and creative work of a designer.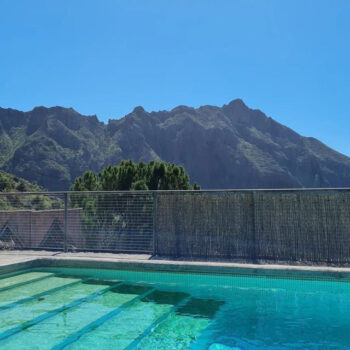 Daily schedule:
07:30 Tea and a bite
08:00 Class
09:45 Breakfast
Free Time
13:30 Lunch
Free time
16:00 Class
18:00 Dinner
20:00  Evening sessions
22:00 Silence and rest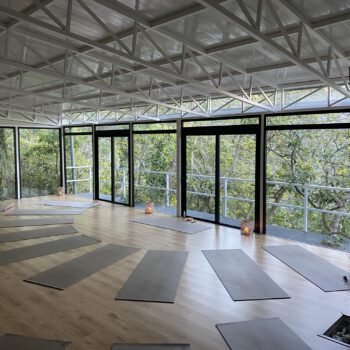 Prices
shared room 1.285,- Euro
private room 1.685,- Euro

BOOK
THIS
RETREAT
BOOK
THIS
RETREAT