Yin Yoga 100h YTT
with
Eva – Lillian Yoga
16 – 26 May 2024
---
Whether you are already a certified Yoga Teacher and would like to offer Yin Yoga in addition to your teachings so far, or you simply share a huge love for Yin Yoga and would like to deepen your practice and knowledge, we would be happy to welcome you at our upcoming 100h Yin Yoga Teacher Training in beautiful Mandala de Masca on the magical island Tenerife.
About the training
You will learn to understand the practice principles of Yin Yoga, get comfortable with anatomy basics and experience how to guide yourself and your students throughout Yin Yoga sessions.
This training teaches you everything you need to know to take your Yin Yoga practice to the next level. You will become a certified and worldwide accredited Yin Yoga teacher and will be able to share the benefits of this mind-body practice for optimal health with others.
Together we will explore the foundation of Chinese Medicine, the body's Meridian System and the Chakras. This will help you to create beautiful and creative Yin Yoga sequences to enrich you students lives.
We will explore the Yin organs, the connected emotions, the seasons, and the elements.
We will discuss the history of yoga, the difference between Yin Yoga and Yang practices and to Yin Yoga and restorative Yoga, we will explore the chakras as well as fascia.
Pranayama and Meditation will become common tools for you to regulate your and your students' nervous systems to maintain a healthy and mindful living.
Besides the typical cues to guide in and out of poses, there will be also the focus on your individual teaching style, finding your own words and strengthen your voice and speech. This will support you to become the best version of yourself as a teacher and will manifest your unique teaching style.
Once in a lifetime
This Yin Yoga teacher training is a once in a lifetime event, that can change your life either personally and professionally.
Our goal is providing you with as much knowledge and powerful insights as we possibly can.
You will have 80 contact hours of training and receive a certificate upon completion for continuing training approved by the Yoga Alliance. The other 20 hours will be facilitated via selfstudy, reading and online assignments before the training.
The training includes
11 days/10 nights Accommodation in a shared room (single room on special request)
80 contact hours, 20 hours mentored selfstudy hours
Training manual
2 daily practices (Yin & Yang style)
Home cooked vegan food (Breakfast, Lunch, Dinner)
Water, coffee, tea, fruits
100h YACEP Yin Yoga Certificate
1 embodied Breathwork Journey
1 Beach day
1 Teide hike with mountain Meditation
Community of like minded people from all over the world
1x 30min  1:1 Mentoring Call 2-3 months after the completion of the training with Eva
The training will be held in English and German.
The topics we will cover are
What is Yin / What is Yang
How to sequence Yin Yoga and Yin Yang yoga classes
Yin yoga and TCM – the Seasons, Meridians, Elements, Emotions
Yin Yoga for Stress and Anxiety
Yin yoga and the Chakras
Emotions and Yin Yoga Yin Yoga and Fascia
New approaches to teach Yin Yoga
Meditation and Mindfulness on and off the mat
Breathwork and the nervous system
The trainings schedule
PLEASE NOTE: The travel days are the first and last days of the training. Please schedule your arrival/ departure accordingly.
Day 1 (arrival day) May 16th 2024
4 pm Check-in
5 pm Opening Circle
6 pm Yin Yoga practice
7:30 pm Dinner
Day 2 to 10 – option 1:
8:00am Morning Yang practice
9.30 am Breakfast
10:30 am Workshop/Lecture/ Posture Workshop
1:30 pm Lunch
3 pm Workshop/Lecture/ Asana lab
5 pm Questions, workshop, journaling
6 pm Evening Yin yoga
7.15 pm Dinner
8:30pm Meditation/Sound/Breath optional
Day 2 to 10 option 2:
8:00am opt. Meditation/Pranayama
8:30am Morning Yang practice
10:00am Brunch
11:30 am Workshop/Lecture/ Posture Workshop
2:30 pm self integrationBreak, light Snacks
3 pm Workshop/Lecture/ Asana lab
5 pm Questions, workshop, journaling
6 pm Evening Yin yoga
7.30 pm Dinner
8:30pm Meditation/Sound/Breath optional
Day 11 (departure day) May 26th 2024
8 am Yin Yang Morning practice
9.30 am Breakfast
11:30 am Closing Circle and celebration/certificates
2 pm individual Check-out
Meet the teacher
When Eva started her Yoga journey many years ago, she found it hard to connect to her Yin energy. Finding stillness was not on her agenda, and she considered it a waste of time. On the other hand, she loved creative and strong Vinyasa Flow classes with higher levels of Yang.
This changed completely after attending a Vinyasa class, which had Yin Yoga elements integrated. That was when Eva fell in love with the Yin energy. The stillness felt like magic and suddenly there was space for letting go. Letting go of old patterns as well as tension in her body.
In 2016 she decided to travel to Thailand where she completed a Yin Yoga Teacher Training. Ever since then she teaches various Yin classes every week. Eva loves creating unique and "out of the box" Yin classes, mixed with her vast knowledge on the chakras and the meridians. Working with the Yin energy throughout the years made her practice and teachings consistent and valuable for both her and her students.
Since 2022 Eva is hosting and guiding different kinds of YTTs all over the world, online and offline and with that found her true passion and life purpose she is committed deeply to.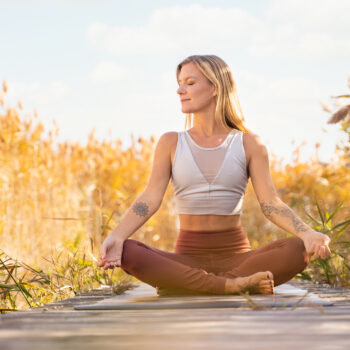 Want to Join?
---
How to book?
Are you ready to reserve your spot for this Teacher Training? Just click the booking button and the enthusiastic team of Mandala de Masca will be in touch as soon as possible!

BOOK
THIS
RETREAT
BOOK
THIS
RETREAT