FREE YOUR WILD HEART
Retreat
with
Gillian & Lisa
13 May – 18 May 2019
---
Remember dancing in the rain? jumping in puddles? laughing, running free, without a care in the world? Before you judged yourself or were judged by others? Remember when you weren't ashamed of who you were? Afraid of where life was taking you?
There was a time when you didn't care what you looked like,…running  through the wet grass. You did it because it felt good… it felt like flying.
You just were…… messy. beautiful. uninhibited. perfect. you.
Where did you go?
Want to find out? Feel like breathing, laughing, moving and eating through a few days of genuinely good company?
Fresh mountain air, warm Spanish sunshine…permeated by mind, body, spirit practices infused with the compassion and humour of your radiant, ever-smiling teachers, Gillian and Lisa.
Let's go get you.
Our classes are adaptable to all levels, from no experience to the pro. The only thing you need to do is show up and bring your beginners mind. Ready to be amazed. Ready to learn. Ready to feel more alive than you have in years.
WHAT WILL FREEING MY WILD HEART FEEL LIKE?
Inviting new energy in
Experiencing an awakening around your personal habits
Exploring the healing pathways of your body
Embodying insights born of a yoga infused with Dao wisdom.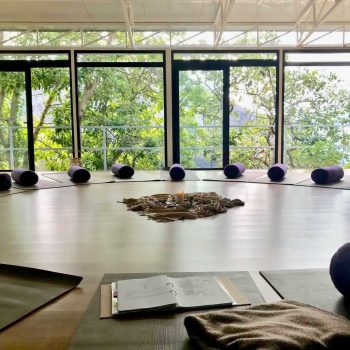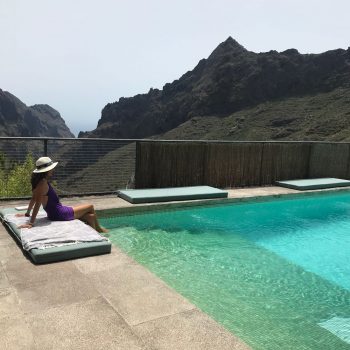 SAMPLE SCHEDULE
7:30 Tea & fruit
8:00-9:30 Morning Meditation & Flow Yoga
9:30 Breakfast
Excursion or Free time to relax at the pool, laze in a hammock, hike a mountain, walk a trail….
5:30-7:00 Evening Yin Yoga & Meditation
7:30 Dinner
Star gaze, listen to nature, chat to fellow yogis, read a book..
WHAT'S INCLUDED
5 nights accommodation
*two yoga classes per full day, some with meditation and journaling time
three excursions: morning meditation and breakfast on a dormant volcano,
a guided hike down the mountain, a picnic lunch on the famous hippy beach
closing gong-meditation Ceremony
three beautiful and tasty vegetarian and vegan meals per day
tasty bites
aqua frescas, teas and homemade drinks
all prepared on site, with on site farmed, local, and organic produce
quiet time
unlimited pool time
transfers to/from retreat location
WHAT'S NOT INCLUDED
YOUR ACCOMMODATION
The estate is a dedicated yoga retreat center in Tenerife, with an area of some six hectares located in a valley, 28 degrees north of the equator. Surrounded by mountains, lush trees and foliage, you will delight in the sounds and beauty of nature, the fresh air and the stunning scenery.
It is both an intimate and picturesque atmosphere.
Prices
Prices are per guest. (Prices shown below include the non-refundable deposit of €300 payable at time of booking).
If booking with friends to share please state the name of your roommate
€935,-  double room (up to 2 guests)
€350,-   single supplement
*All proceeds of this retreat directly supports the work of the non-profit Foundation Yogini rosa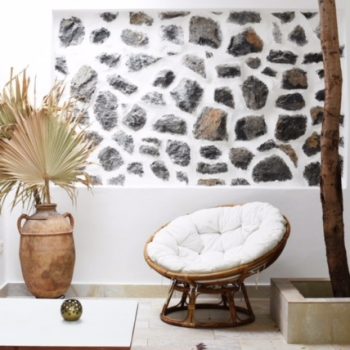 HOW TO GET THERE
There are two airports in Tenerife. Plan to arrive on May 13th. Let us know your flight details so that we can have you picked up by our retreat hosts.
MEET LISA
A believer in following your dreams, this mother of three left a successful career as a documentary producer at the BBC in London to pursue a passion for yoga.
Keen to share the liberating effect this 15-year practice had on her life, Lisa became a certified yoga instructor and has been a well-loved teacher for 8 years now.
Her journey has taken her all over the world, most recently Suryalila Yoga Retreat Centre in Spain where she is a yoga teacher trainer for Frog Lotus Yoga International.
Lisa's heart-centered approach is a reflection of her radiant personality.  She brings a fresh and faithful eye to time-honored traditions and draws on the universal teachings of yoga, both on and off the mat. With an emphasis on the breath and intelligent flow sequencing, her classes are crafted to empower her students to develop their practice, and have a safe life-long yoga experience.
MEET GILLIAN
For this mother of three and dedicated teacher, yoga represents an intelligent system of harmonizing all of the dynamic layers of the human experience. Body. Spirit. Nature. Truth. the Universe.
"When you are able to find safety within yourself. When you no longer look to others for approval, permission, or for your identity. When you can stand fully in both your humility and your greatness." – This is the life long journey that leads people back to yoga. Again and again we unfold ouselves, peel back the layers, open the blockages that plug us up with fear and indecision.
Yoga, for Gillian has become more like "kinesthetic awareness therapy", leading people back to themselves, empowered, grounded, energized and awake.
Currently her classes are exploring the balance between yin and yang. Teaching a powerful, juicy, placement focused Vinyasa flow is one style she loves. But then she likes to utterly surrender to gravity in a deep, yummy yin/restorative class.
Both aim to investigate the multiple layers of each individual. By introducing a form of measurement which reveals habitual patterns, thoughts and imprinted experiences, there can be an energetic shift. A freedom that leads to peace, insight and an environment where the body can potentially self-heal.
Do you want to free your heart?
---
How to book this Retreat?
Do you want to join? By a click on the BOOK button you can select the week and reserve your spot. Mandala de Masca will take contact with you. Further details are provided upon booking and as the time gets closer to this retreat!
Questions? Write to Gillian

BOOK
THIS
RETREAT