Flow & Grow
Yoga retreat
with
Emma & Anfridur
18 november – 25 november 2018
---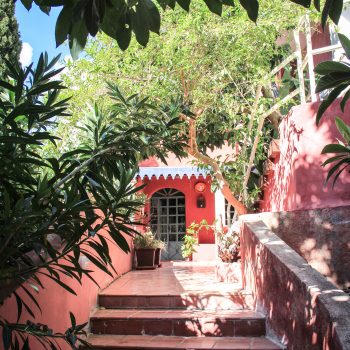 Listen to your heart
Join Emma Andrea and Arnfridur from Sweden on a beautiful week of Yoga!
There's going be time and space to really find your way back into the flow. We will open the mind and body in a soft way.
The whole week is an ongoing oportunity to be present in and for yourself and listen to your heart.
The tools are going to be a mix of Hatha, Yin and Kundalini yoga. A lot of mantra singing, pranayama and meditation will be included in the practice.
Location
We will spend the days at the beautiful retreat center Mandala de Masca, located on the west side of Tenerife island, in the valley of Masca.
Surrounded by gorgeous mountains and their energy, with a yoga studio both inside and outside to enjoy the view.
We will enjoy 3 beautiful and tasty vegetarian and vegan meals a day + some healthy bites throughout the day. Aqua frescas, Teas and the other home-made drinks.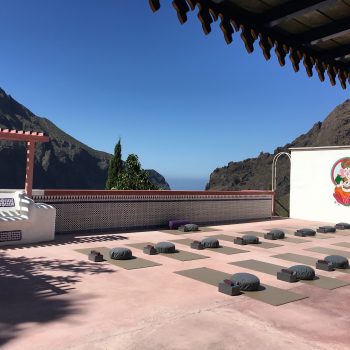 Theme
The theme of the week is to awaken the heart through Asanas, mantra singing, dance, guided meditations and the community created with all the participants.
During the days spent together we will awaken the life force energy.
This will be seeds that's going to sprout in your everyday life.
Healing
It will be possible to book different healing, massage and acupuncture sessions during the week. Not included in the price
Week schedule
Will come shortly.
Yoga & other experiences
The classes will be more like workshops, so longer, where we go deeper.
There will also be Osho kundalini and dynamic meditation and dance.
We will organise hiking and beach excursions and everything is optional, and not included in the price. Depending on the group and of the weather, we stay spontaneous and decide that week.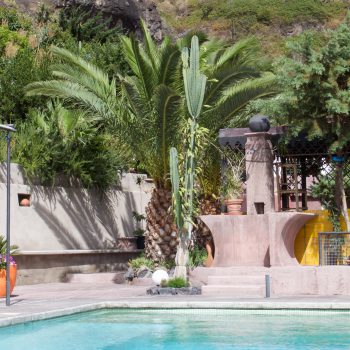 What's included
7 days of yoga, ( twice a day, day of arrival and departure one class a day )
7 days of accomodation in a beautiful room with privat bathroom.
3 beautiful and tasty vegetarian and vegan meals a day + some healthy bites throughout the day. Aqua frescas, Teas and the other home-made drinks.
What's not included
Price
9500 SEK
Early Bird 9000 SEK – Pay 2000 SEK in deposit before 1 June.
About us
Emma Andrea
is not your everyday healer – with a background in the creative fields of photography and the visual arts she is known to always bring an artistic touch to everything she does. After having spent many years living in Paris and New York, she is currently based in the city where she grew up, Gothenburg, Sweden.
Where she's been studying ancient wisdom of Ayurveda, traditional chinese medicine, acupuncture and thaiyogamassage.
2005 Emma found Yoga and since then ever greatful and amazed to be on this transformational and healing journey.
She took her first Yoga teacher training in New York city 2012, and was fortunate to experience some of the city's finest teachers. As a teacher herself, she encourages the life force energy to flow more freely, breaking up stagnation and blockages, so that we all can feel freer and more creative. She teaches Hatha yoga the classical way, where a class always include mantra singing, pranayama and meditation. 
Arnfridur
started her journey of selfdiscovery in India when she stumbled into the heart of Sivananda yoga teachings at an Ashram in Kerala. The year was 2009 and it was time for a big shift in her consciousness, from sufferer/victim to bliss/wisdom mentality. There she completed a teacher training fallowed by 9 month traveling in India, listening to different teachers sharing the wisdom in Vedanta and Yogic philosophy.
When back in Sweden she lived at Shambala Gatherings a spiritual retreat center. She volunteered there several months and attended yin yoga teacher trainings and other awakening retreats.
In 2011 she attended a Kundalini yoga training in Sweden and from that point she started teach yoga and meditation. She has been doing that until today among other things.
Arnfridur has an empathic/sensitive personality, being able to feel into others is a good tool when working with healing and tuning into the Magic of life.
She also loves art, nature, music, friends, family, beauty and love.
For her a miracle is when turning fear/hatred into trust/love. www.arnfridur.com
Do you want to join?
---
How to book this retreat
By a click on the bookings button you can fill in your registration form. The team off Mandala de Masca will take contact with you.

BOOK
THIS
RETREAT