Feel Good
Yoga Retreat
with
Cobi – Clare – Iberia
3 February – 8 February 2020
---
Take time out for you…
Join us for a Feel Good Yoga retreat in the beautiful valley of Masca, Tenerife.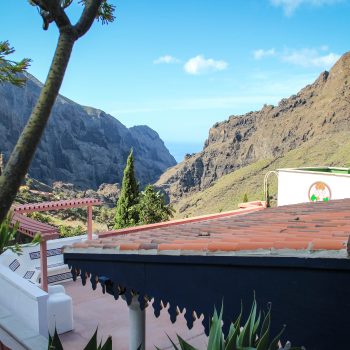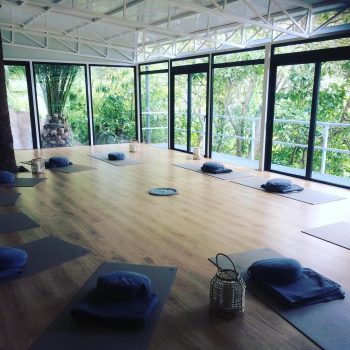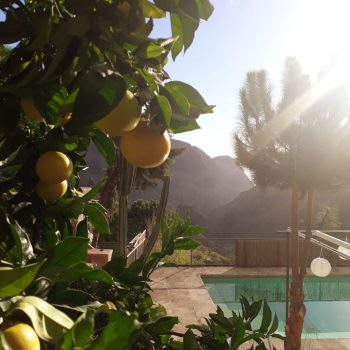 Cobi Campbell, Clare Evans and Iberia Ortiz will use their different approaches and years of experience to help you replenish your mind and body. After a week of twice daily yoga sessions, 3 healthy vegetarian meals, with massage and evening activity options, you will emerge as a revitalised, empowered, more relaxed version of yourself!
Every day will offer a schedule of active and relaxing yoga, using asana (yoga postures), pranayama (breathing techniques) and meditation. Off the mat, you will have the chance to relax, have a therapeutic treatment such as a massage, hike in the surrounding countryside, swim, or visit the nearby tavernas, which are a stones throw away in Masca village!
The retreat will take place at Mandala de Masca, a stylish and welcoming Finca surrounded by beautiful countryside.
It boasts both indoor and outdoor yoga shalas and a fresh water swimming pool overlooking the valley.
About
Clare Evans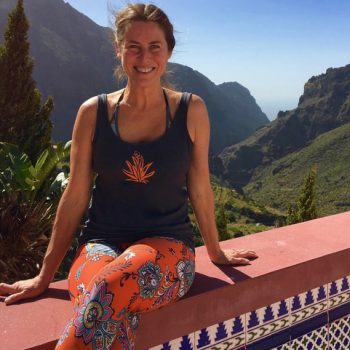 I have always loved to move. When I was young it was all about dancing and running from one adventure to another.
When I became a mother it was about being active and strong enough to keep up with three children. When they all grew up – way too quickly– and at home I couldn't bear to sit still. I took the opportunity to get back into full-time education and threw myself into the rollercoaster of learning. Frustration, despair and joy came in equal measures, while I navigated my way through a Degree in 3D Design and Materials Practice, followed by a Masters in Sustainable Design.
Through it all, I had yoga. Having gone to my first yoga class out of curiosity at the age of 18. An hour on the mat gave me the chance to breathe, to think about my day, to stretch and relax and to understand that any problem looks different when you have your heels flipped over your head. Those problems can also look different when you can't flip your heels over your head and that's the lovely moment when you realise why it's called yoga 'practice'. Fitness and flexibility will come with time. So will patience and compassion. A safe space, to explore all the ups and downs that life brings, is something I love to creation for my students, and although I am passionate about the mental and emotional benefits of yoga, I stick with the simple truth – that most things in life can be made better with salt water – tears, sea swimming and sweat.
To that end I live on the beautiful Channel Island of Alderney and I teach in a sweet little studio attached to the back of my house which was once a playroom. It still is a playroom as every day we all learn together – it's not that we can't do something it's simply that we haven't done it before and that practice makes perfect.
My yoga teacher training took me to Ashiyana Yoga Retreat in Goa, India where I developed my understanding, and practise, focusing on Hatha yoga, Yin, and Mindfulness Meditation. I am always excited to share the transformative and healing power that yoga has had on my life with others.
Cobi Campbell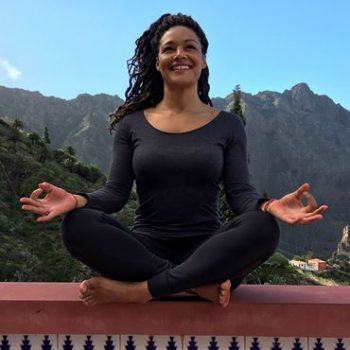 'Practicing yoga is like being on a body holiday' – Vanda Scaravelli
I found this quote about the same time I found yoga. Like a lot of people I thought yoga was about lying down but just one class showed me how playful and strong its practice inspires one to be! I was so intrigued that I carried on with my 'body holiday' and found out how to take a break from fear, being self-conscious and even depression. I was able to create a wonderfully positive space for myself.
My Yoga Teacher Training in 2016 was in Hatha and Vinyasa Flow and I have since trained to teach Yin Yoga and Yoga Nidra.
I teach classes and workshops at various London health clubs, studioas and community settings, as well as in the workspace.
I'm experienced at teaching a range of people from complete beginners to seniors. I also lead specialized classes such as Chair Yoga once a week and yoga for adults with special needs.
My classes are warm, welcoming, accessible; full of breath, mindful movement, creative flows, stillness and relaxation.
I encourage patience, awareness, exploration and being kind to oneself.
Come and have a body holiday!
Iberia Ortiz
I came to yoga in my early 20s as a physical exercise and in my late 30s I rediscovered yoga as my last resort, trying to recover from an event that left me with severe injuries.
I had to turn my life around when the doctors told me they did not know if I would be able to walk again. Yoga and meditation were a key part of the healing and rehabilitation process through this difficult time.
I am now a fully qualified 500 hours Yoga Teacher. I have developed my practice and understanding of the body through: Hatha Yoga and Mindfulness, Meditation, Pranayama, Qi and Chakras, Yin and Yang yoga, Asanas, Relaxation, Healing and Rebuilding. I include demonstrations and hands-on adjustments.
I am passionate about what I do and I aim to bring a unique sense of empowerment to each of my classes. I strive to live a yogi life and lead my teaching in a way that reflects that. Taken from my own experience, I teach in a way that provokes thought, meaning and 'letting go'.
My classes are rewarding both mentally and physically. Each class is an experience in itself and you will leave feeling therapeutically refreshed and renewed. I strongly believe in healing through yoga and I would like to share with you the benefits that this beautiful practice brings.
Price
shared room – max 4 p. € 699,-
shared double room – max 2 p. € 799,-
single room – 1 p. € 1.070,-
Included in price:
Stylish accommodation with bathroom. Options to share or have own room.
4 persons sharing is 2 x twin bedded bedrooms, within an apartment, with 1 large bathroom.
Three delicious vegetarian/ vegan meals a day plus healthy snacks and refreshments (food intolerances and allergies can be catered for on request)
Morning Yoga – Hatha, Vinyasa Flow, Qi Gong.
Evening Yoga – Yin, Restorative or Yoga Nidra.
Daily Meditation.
Sound Bath Evening with Singing Bowls and Gongs.
One day trip, beginning with a sunrise meditation at the foot of the highest mountain in Spain, Pico del Teide, then a hike to the hippie beach!
Airport Transfers (based on shared ride)
Not included
Flights
Travel Insurance
Therapeutic Treatments
*EARLY BIRD PRICES*
BOOK BEFORE OCTOBER 31ST FOR 50 EUROS OFF FULL PRICE!
---
Do you want to join?
Please use the BOOK button to reserve your spot. The team of Mandala de Masca will contact you.

BOOK
THIS
RETREAT